Who does not like a grand party, and what is a party without good music! music is the life of every party and what is a body without a soul, similarly what is good party music without brilliant party speakers!
How To Choose The Best Party Speaker?
So, if you are thinking of making your party even more memorable and rocking with some wholesome songs and jamming, then get yourself an amazing party speaker. If you need any help in doing so, then this article will be perfect for you. This article will help you get well versed with the various parameters you should look for while choosing the perfect party speaker for yourself.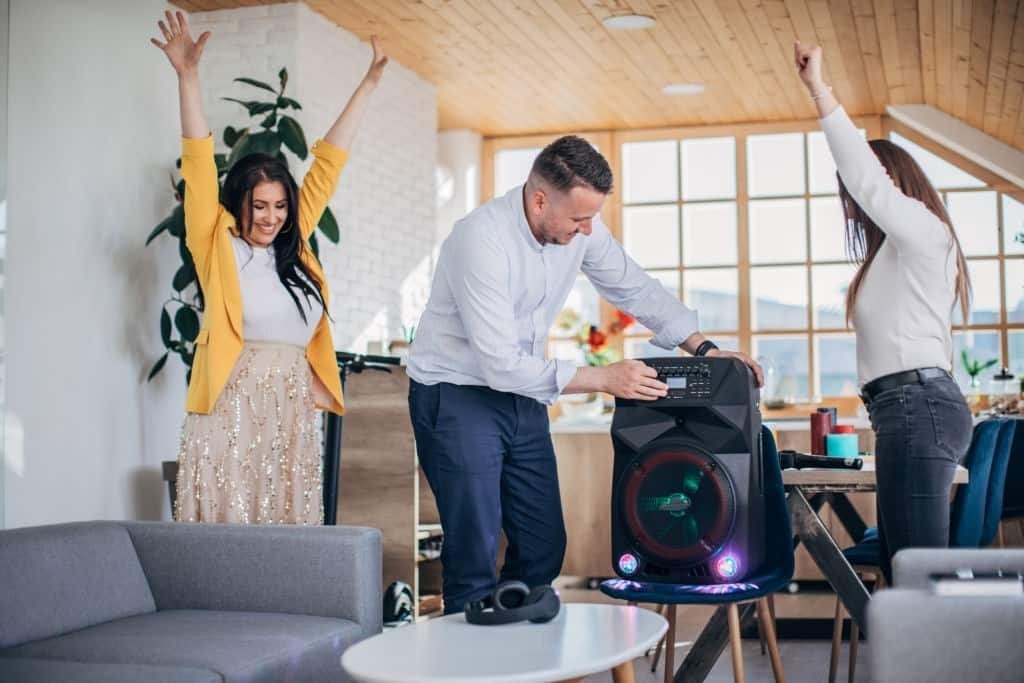 Parameters To Choose The Best Party Speaker –
While choosing a good party speaker, one should ensure that the speakers offer a Bluetooth connection facility and do not need any manual connection to be connected. This will help in providing more mobility to your speaker, and you can place it anywhere with ease, be it indoors or outdoors. It will also allow you to play music from various online platforms like Spotify, Gaana, Saawan, etc.
It would be best if you also looked for the attached USB port in case you want to play your favorite playlist through your pen drive.
One should always look for a speaker with a very good battery life, especially with ones with advanced technology. Nowadays, all the speakers have different battery life and durability ranging from 20 hours, 25 hours, 40 hours, and 50 hours.
Some speakers are also compatible with external batteries, which can be used if you want to access your speaker even after its charge run-offs.
The latest Lithium-ion technology-based batteries are used in certain speakers. If you want a longer life span for your speaker, then go for speakers with this technology.
Speakers that are portable and easily compatible with mobility should be bought to avoid any space-based restrictions to your party. For better mobility, one should also go for the lightweight speakers rather than the bulky party speakers because such speakers restrict mobility to a large extent.
Thus, the lighter party speakers are better whether for a car party and even if you want to carry them while traveling or long drives.
Nowadays everyone is very fond of outdoor parties. Who does not fancy a crazy party in their lush green gardens, in their farmhouses, beachside party, a party on your terrace, or a rain dance party?
But do you think that every speaker will be compatible with it? No, right! This is why while choosing a party speaker, one should check if it is resistant to dust, heat, and water to ensure that the rain, scorching sun, or a momentary wind storm does not kill the vibe and fun of your party.
We all like different kinds of parties. Some of us enjoy the big, crowded parties with loud music, while some of us have a taste for quiet basic small-scale parties with low and soft music. So, one should keep in mind the kind of parties they like or host before buying a good speaker.
The speakers with a high base and loud music compatibility without distortion are usually on the more expensive side as they require more power. In contrast, the less power-oriented speakers are usually on the cheaper end of the pricing.
This is one of the most important factors to be looked upon while choosing the perfect party speaker for your party. There are a large number of companies that are selling speakers at extremely high prices, but one must not fall for these.
The prices of these speakers definitely do not determine their quality. While choosing the speaker, look for the one with reasonable pricing, and that is well equipped with the features mentioned above and qualities.
Conclusion
Music is the soul of every party. Low and dull music kills the vibe of the party, so why risk the fun? Choose the perfect best party speaker for yourself, keeping in mind the parameters mentioned above, and enjoy a fun and wholesome party with amazing music, enthusiasm, and fun.
If you look for the speaker keeping in mind these factors, you will surely get your hands on the perfect party speakers for a rocking and lively party.