Although the built-in speakers on the Oculus Quest 2 VR headsets provide decent sound quality, it lacks the noise isolation and audio depth necessary for an immersive gaming experience.
To truly enjoy the exquisite sounds of games like Beat Saber, investing in a dedicated headphone for your Oculus device can help a lot.
But you can't just pick any random pair of headphones you find online and expect it to work well with your VR headset.
There are a few important aspects to consider before buying Oculus headphones that we have listed below. Please read through them and also check out our top 10 headphones that we've specifically chosen for your Oculus Quest 2.
Things To Consider While Shopping For Oculus Headphones
1
Connectivity
Oculus Quest 2 devices officially support only the 3.5mm jack, and the USB Type-C connectivity for headphones.
You can toggle the Bluetooth pairing option from the 'Experimental Features' setting to connect wirelessly with your headphones, but some of the games don't work well with this option enabled. A lot of users have reportedly experienced audio delays and choppy sounds in popular games like Beat Saber when paired with Bluetooth headphones.
So, it is highly recommended that you look for headphones with either a 3.5mm, or USB Type-C connection for best performance.
2
Cord Length
Most headphones have long-wired chords to reach your smartphones, tablets, laptops, etc. that are kept at a small distance away from your ears. But since the audio ports (3.5mm and USB Type-C ports) of the Oculus Quest 2 are placed just 20-30 cms away from your ears, most conventional headphones will leave a long dangling chord that can be annoying when playing games.
There are a lot of headphones specifically made with short cables with the Oculus VR headset in mind.
While you can simply tuck the hanging chord inside your t-shirts to avoid this, it is still recommended to go for the short-chorded headphones for a better gaming experience. Or better still, if you have detachable cables, look for short 3.5mm or USB Type-C cables (within 20-40 cms in length).
3
Weight
It may seem tempting to wear your large over-ear headphones for getting that richer audio experience.
But you have to remember that the Oculus Quest 2's headset alone weighs over 530 grams.
Wearing bulky headphones along with your Oculus headset is probably going to give you more of a strenuous neck workout than that leisurely gaming experience you wanted.
This is why most of the dedicated headphones for Oculus Quest 2 devices are in-ear headphones, to avoid adding to the weight.
Still, some lightweight-design over-ear headphones can be more comfortable than most others. But in-ear headphones are generally recommended for VR gaming.
Best Oculus Quest 2 Headphones – Our Top Picks
1.Amavasion A200 VR Gaming Earphones
These are one of the highest-rated earphones on Amazon for the Oculus devices.
The earbuds feature 10mm dynamic drivers for high-quality sounds that come with left and right calibration for that 3D sound experience. It gives you that 360-degree gaming environment.
It comes with the standard 3.5mm audio jack connection with short-length chords (51 cm) that fits perfectly in length.
It has a seamless in-ear vacuum feature that keeps the earphones firmly placed while suppressing over 94% of ambient noises.
These earphones come with 4 additional interchangeable earbuds for a versatile experience.
2.Logitech G333 VR Gaming Earphones
These earphones are specifically designed for the Oculus Quest 2 and previous Oculus devices.
They feature dual dynamic audio drivers, one for highs/mids, and one for bass, for that detail-rich and accurate audio experience in your gaming sessions.
They provide 3 flexible, soft silicone tips and sturdy aluminum cases for that premium look and feel, and durability.
They come with 3.5mm cables that are made custom-length for avoiding dangling or tangled wires for that hassle-free virtual experience. They've also included a handy strap feature on the wires to stick to the headset more firmly.
3.AMVR QE2 Earphones
These earphones feature the classic 10mm neodymium-magnet drivers for delivering impressing sounds with clear highs, crunchy mid-tones, and powerful bass. The key feature is its noise-isolating earbuds that provide immersive VR gameplay.
Another great feature is the left and right mono calibration that provides the 360-degree surround 3D effects in your games.
They come with the standard 3.5mm connection chord of sizes between 23-45 cms (left and right separated length) for minimal hanging wires. They provide custom earplugs silicone caps of 3 sizes (S/M/L) for ensuring a comfortable and firm fit for all ear sizes during those hasty VR movements.
4.SINYUDUN Noise Isolating Earphones
A very standardly designed earphone that is reliable in terms of its audio quality and durability.
It reproduces high fidelity sounds with its solid sound-insulating material that also helps reduce external noise and minimizes sound leakage. The stereo sounds produced by these earphones provide a comfortable listening experience without fatigue during long game time.
It features the common 3.5mm jack connection and comes with custom-length cables. The Velcro strap helps fix the earphones firmly on the headset according to the position of your head.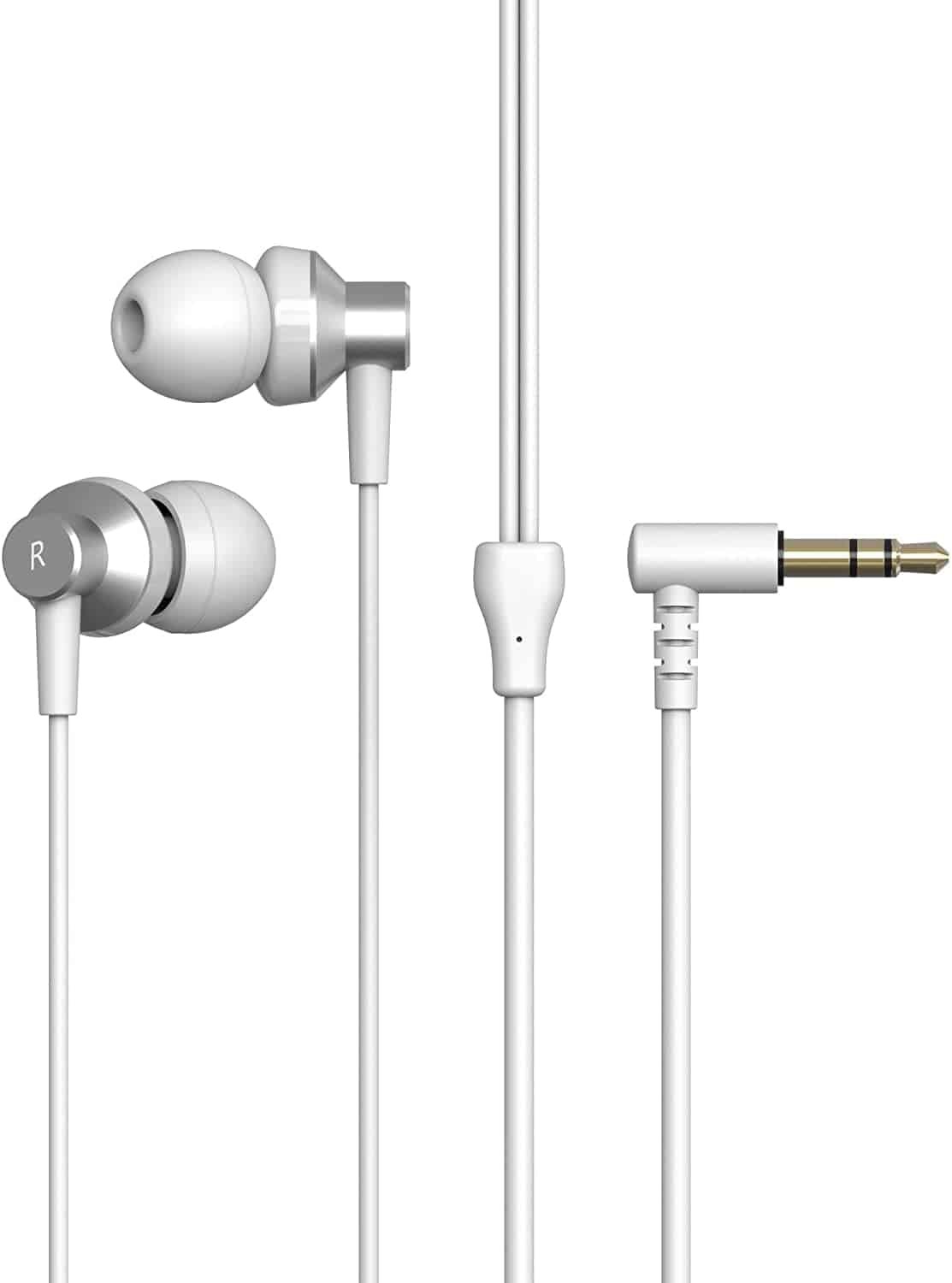 It comes with an earphone storage box and custom silicone earpads with 2 Small and 2 Large ear caps.
5.Logitech G PRO Gaming Headset
These are over-ear headphones specifically made for the Oculus Quest 2 headsets.
It is made with soft and lightweight premium materials that provide added comfort despite its bulky exterior. Its soft memory foam headband and leatherette ear pads provide ample noise isolation along with comfortable gaming hours.
The 50mm audio drivers reproduce clear and precise sounds with an accurate and wide frequency range. The high-fidelity bass response produced by these drivers creates a truly immersive VR experience.
These headphones feature the classic 3.5mm connectivity with custom-length cables for preventing annoying tangles and dangles and producing minimal latency.
6.Globular Cluster Stereo Bass VR Headphones
It is a unique pair of custom-made clip-on-ear headphones that can be attached to the headset of your Oculus devices. It comes with a head strap for left and right ears that sits on your headset and connects via a 3.5mm cable (custom-length).
The built-in 40mm dynamic drivers provide deep bass, clear highs, and crunchy mid-tones for delivering hi-res audio.
Because of its left and right single channel calibration, you get to experience the 3D 360-degree sounds calibrated by direction and distance.
These headphones can be more comfortable than over-ear headphones because of their lightweight build thanks to their lack of headband straps.
7.1Mii Oculus Quest 2 Headphones
These earphones combine its dual speaker setting with its adapted sound-isolating design for blocking out ambient noise and recreating an immersive VR gaming experience.
The separate left and right sound channel calibration help deliver a detailed stereo sound with 3-Dimensional audio.
The ergonomic design and multiple sizes of ear caps provide the perfect fit and long-lasting comfort during your gaming sessions.
They feature the standard 3.5mm aux connection with low latency and high-quality audio transmission. The cables come at custom length (40 cm) for avoiding loose and hanging wires that can hinder your gameplay.
8.SARLAR VR Gaming Headphones
These over-ear headphones are designed for VR as well as other gaming platforms also. Although the main connection wire features a 3.5mm custom-length cable for the Oculus headsets, they have included a 3.5mm extender cable for connecting to other devices.
Its 45mm large-aperture drivers provide great audio quality and the large protein ear pads provide ample noise isolation for an engaging gaming session.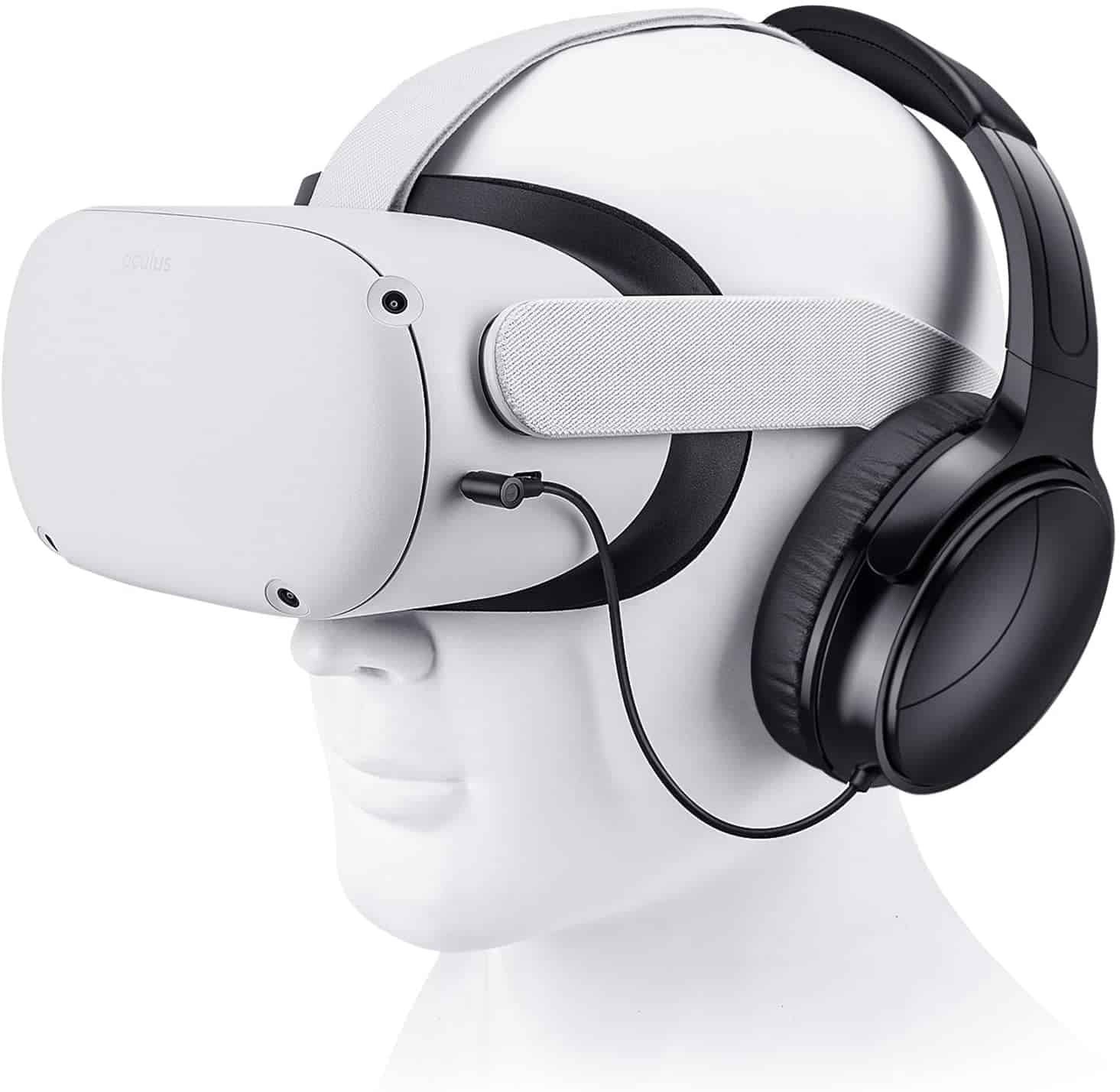 These headphones are built with lightweight materials and the superior protein headband and ear pads provide a comfortable gaming experience for prolonged durations. Handy accessories including VR lens protect cover, Velcro tie, microfiber cleaning cloth, carrying case for headphones, etc. are also included with this device.
9.KIWI Q8-3 Earphones for VR
These are the standard in-ear design headphones that come with a 3.5mm connection and a short-length custom chord (43 cm).
It is made with 10mm neodymium-magnet drivers that deliver very good bass and pleasant mid-high balance for rich sounds.
the TPE materials and aluminum alloy design produce a lightweight and durable build quality.
The ergonomic design and material composition of these headphones help reduce external noise and sound leakage for more immersive listening.
It comes with 3 various ear tip sizes that help find the best fit for your ears.
10.SpectraShell OQ9 Earbuds
These earphones are also made with the standard design for VR headsets with custom short-length cables of 3.5mm connectivity. Its UltraFlex silicone-style wires provide a solid look.
Each earbud features 9mm dynamic drivers, for good audio quality with deep bass, crunchy mid-tones, and clear trebles.
These headphones only produce one channel of audio in each earbud so they are unable to reproduce 3D sounds.
But the in-ear design and solid materials provide decent noise isolation for immersive gameplay. These are some of the cheapest, yet reliable pairs of headphones you can find for your Oculus Quest 2.
Final Take
There are a lot of headphones you can find online with multiple features and advanced specs. But most of them won't work well with VR headsets like the Oculus Quest 2.
Their Bluetooth pairing is still an experimental setting and they require custom-length connection wires for a hassle-free gaming experience.
You can always use your 3.5mm or USB Type-C headphones with some minor adjustments, but investing in a dedicated pair of headphones can help bring out the best audio performance with 3D sounds and rich audio quality.
Most of the headphones we've listed here in our review are great options for your Oculus devices.